BASED IN: Verona – Italy
ROLE and COMPANY: Senior Software Engineer at Workwave
COMMUNITIES: Angularjs Italia (facebook and g+), React Italia (facebook and g+), Fevr Verona
WHY SHOULD PARTICIPANTS CHOOSE TO ATTEND YOUR TALK?
Frontend development complexity continues to grow. Learning from the experience of real-world projects greatly improve our understanding of the possible solutions available to develop new products. During the talk, we'll start looking at today's status of UI development to better understand how to create a theme management system for React.
Title: Building a theming system with React
When: Wednesday, May 17th from 14:00 to 14:40

IF YOUR TALK HAD A SOUNDTRACK, WHAT WOULD THAT BE?
Probably "Losing your mind" from 'The Get Down' soundtrack mainly because I listened to it so many times while working on the slides.

IF YOU WERE A PARTICIPANT WHICH TALKS WOULD YOU ATTEND AND WHY?
I'd attend for sure to the talks speaking about Reactive Programming. I strongly believe FRP will play an important role for frontend development in next years.

WHAT IS HAPPENING IN YOUR FIELD IN 5 YEARS?
Web frontend development is moving so fast that is really difficult foresee where it will be in 5 months. But I strongly believe that we are starting slowing down, transitioning from evolve disrupting previous standard to evolve offering continuity to the developers. So, in 5 years, I see consolidated best practices and design patterns across all the available framework/libraries.
Back to interviews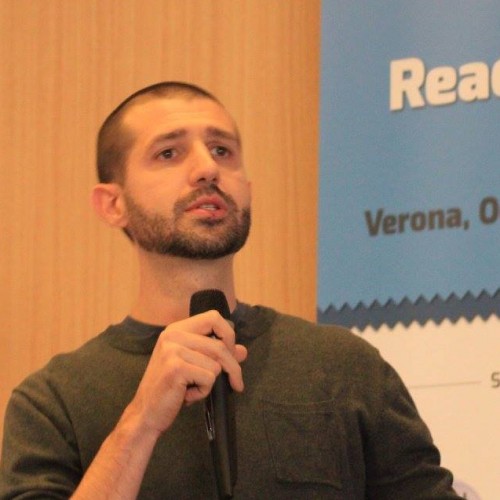 Speaker bio